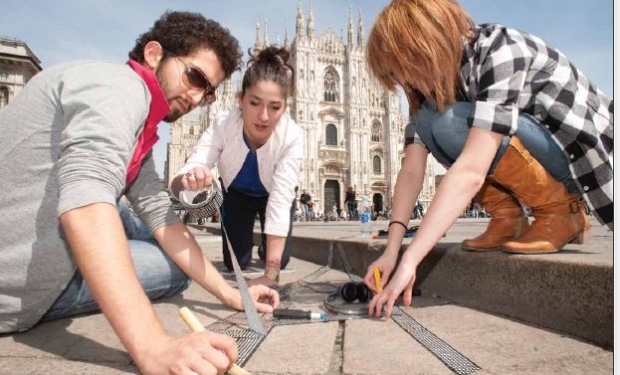 Naba: Competition announcement awarding 42 scholarships (25% reduction of the tuition fee) for all the postgraduate programs starting next January 2012. Imm: Naba
Concurso para bolsas de estudo: Nuova Accademia di Belle Arti Milano [en]
A Nuova Accademia di Belle Arti Milano (NABA), com sede em Milão, oferece 42 bolsas de 25% para os cursos de Masters com início em janeiro de 2012. Os candidatos devem se inscrever até 18/10.
Veja aqui o edital do concurso
NABA è un'Accademia di iniziativa privata che nasce a Milano nel 1980 per volontà di Ausonio Zappa, Guido Ballo e Tito Varisco, con l'obiettivo di contestare la rigidità della tradizione accademica e di introdurre visioni e linguaggi più vicini alle pratiche artistiche contemporanee e al sistema dell'arte e delle professioni creative.
È riconosciuta dal Ministero alla Pubblica Istruzione (oggi MIUR Ministero dell'Istruzione dell'Università e della Ricerca).
Intorno ad essa si attiva un nucleo di artisti di fama con forte vocazione alla didattica: fra questi Kengiro Azuma, Emilio Isgrò, Carlo Mo, Emilio Tadini, Gianni Colombo, Lucio Del Pezzo, Franco Grignani, Mario Carieri, Umberto Mariani, Roberto Menghi, Aldo Montù, Waler Valentini, Gino Negri, Hidetoshi Nagasawa. E' in particolare Gianni Colombo, artista e progettista e direttore dal 1985 al 1993, a definire la filosofia formativa della Accademia. Nell'84, ai precedenti indirizzi di Pittura, Scultura e Scenografia si aggiunge l'indirizzo di "Advertising / Graphic Design" e nell'88 quello di "Moda".
Nel 1995, NABA riceve dal Sindaco di Milano l'attestato di Benemerenza Civica: "NABA è cresciuta in prestigio e fama tanto da porsi quale interlocutrice italiana delle Accademie di Belle Arti in Europa e nel mondo".
Nel 1997 attiva un diploma in Product Design. Nel 2002 entra a far parte del Gruppo Bastogi e integra Futurarium, scuola post universitaria di estetica fondata da Alessandro Guerriero, oggi presidente dell'Advisory Board di NABA. La direzione del corso é affidata ad Elisabetta Galasso. Fra il 2003 e il 2004 si insedia nella nuova e prestigiosa sede di via Darwin 20 a Milano.
Dall'anno accademico 2006/2007 sono stati attivati i primi programmi specialistici: il Biennio Specialistico in Arti Visive e Studi Curatoriali e i Master in Digital Exhibit and Set Design, Photography and Visual Design, in collaborazione con FORMA, Centro Internazionale di Fotografia, e con il Politecnico di Milano il Master internazionale in Landscape Design. Sono partiti a gennaio 2008 il Master in Interior Design e i Bienni Specialistici in Design della Comunicazione, Design del Tessuto e dei Materiali.
Presso NABA è stato inoltre attivato un nodo del Planetary-Collegium, programma di PhD in arti e tecnologie dell'Università di Plymouth e, dall'anno accademico 2010-2011, un nuovo Biennio Specialistico in Film and New Media. Dal 2011-2012 sarà attivo un Biennio Specialistico in Design.
Dal 21 dicembre 2009 NABA è entrata a far parte di Laureate Education, un network internazionale di oltre 54 istituzioni accreditate che offrono corsi di laurea di primo e secondo livello a più di 650.000 studenti in tutto il mondo.

NABA: Bando di concorso per l'esonero parziale della retta di frequenza
Per promuovere l'eccellenza nelle discipline accademiche, NABA intende supportare giovani fortemente motivati e di talento, mettendo a disposizione n. 42 borse di studio a parziale copertura (25%) della retta di frequenza ai Bienni Specialistici e ai Master Accademici di primo livello con inizio in gennaio 2012.
Scadenza: 18 ottobre 2011
Competition announcement awarding 42 scholarships (25% reduction of the tuition fee) for all the postgraduate programs starting next January 2012.
Deadline: October 18th 2011
History
NABA is a private Academy that was founded in Milan in 1980 on the initiatives of Ausonio Zappa, Guido Ballo and Tito Varisco who aimed at challenging the rigid academic tradition by introducing new visions and languages closed to contemporary artistic practice and the creative and artistic professions. In 1981 it was officially recognised by the Ministry of Public Education (now known as The Ministry of Education, University and Research).
A group of renowned artists with a strong vocation for teaching, among whom Kengiro Azuma, Emilio Isgrò, Carlo Mo, Emilio Tadini, Gianni Colombo, Lucio Del Pezzo, Franco Grignani, Mario Carieri, Umberto Mariani, Roberto Menghi, Aldo Montù, Waler Valentini, Gino Negrii, Hidetoshi Nagasawa started to collaborate with the Academy. Gianni Colombo, artist, designer and Director of the Academy from 1985 to 1993, shaped the NABA educational philosophy. In 1984 the Advertising and Graphic Design Curriculum was added to the Painting, Sculpture and Theatre Design Programs and in 1988 Fashion Design Program was added to the NABA programs. An internationalisation process was meanwhile launched and in 1990 NABA joined ELIA (European League of Institutes of the Arts).
In 1995 NABA was awarded by The Mayor of Milan the Certificate of Civic Merit with the following motivation: "NABA has grown in prestige and fame and has become the Italian reference point for Fine Arts Academies in Europe and worldwide."
In 1997, a Bachelor of Arts Degree Program in Product Design was activated. In 2002, NABA joined the Bastogi Group and integrated Futurarium, a post-graduate School of aesth-et(h)ics founded by Alessandro Guerriero, who is currently NABA President. NABA current Director is Elisabetta Galasso. Between 2003 and 2004 NABA moved to the new prestigious campus in via Darwin 20, Milan.
In the Academic Year 2006/2007 the first two-year MA Programs and one-year Master Programs were activated: the two-year MA Program in Visual Arts and Curatorial Studies, the one-year Master Programs in Digital Environment Design, the one-year Master Programs in Photography and Visual Design (in collaboration with FORMA - International Centre for Photography), as well as the one-year Master Program in Landscape Design, in collaboration with Politecnico di Milano.
In January 2008 NABA activated the one-year Master Program in Interior Design, as well as the two-year MA Programs in Multimedia Communication Design and in Textiles and new Materials Design. In the Academic Year 2010-2011, a new two-year MA Program in Film and New Media was activated.
Starting from the Academic Year 2010-2011 another two-year MA Program in Design will be activated.
Since 2005 the academy has also been part of the PhD Program in Arts and Technologies developed by the Planetary Collegium based at Plymouth University (UK).
On 21st December 2009 NABA joined Laureate Education, an international network of accredited universities that includes a community of over 650,000 students on more than 100 campuses in North America, Latin America, Europe and Asia.